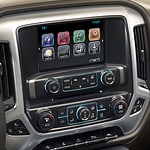 Apple CarPlay is designed to provide a safe and convenient way of connecting your iPhone to your car. With this technology, you can access your phone's features while driving, including making hands-free calls, listening to music, and navigation services.
The interface is intuitive and user-friendly, allowing hassle-free navigation without taking your hands off the wheel. The touchscreen display makes it easy to select apps and view maps or text messages with just a few taps. Siri voice control lets you control most functions by simply speaking aloud.
Apple CarPlay also keeps you connected on Oakland, CA roads with updates from popular messaging apps such as WhatsApp and iMessage. You can even access the Apple Music streaming service to over 50 million songs.
Apple CarPlay also offers an array of additional features to keep you safe while driving, including Do Not Disturb mode, which prevents distractions for incoming calls and messages, and a speed limit reminder to help you stay within the law.